December 31st 2019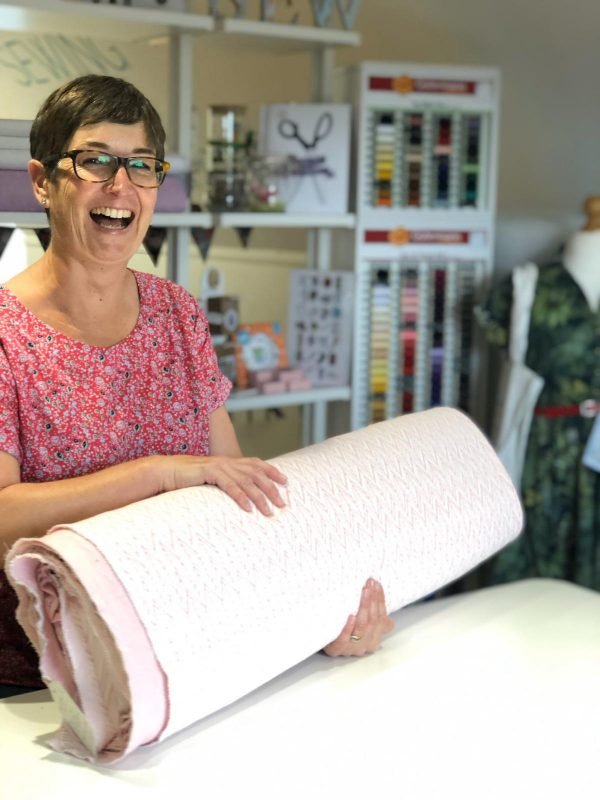 First up in our 'Meet the team' series is Jacqui. As one of the newest members of the team, Jacqui has already settled into her fabric swishing and order prepping lifestyle. She's also always on hand as a friendly face for visitors to our shop over in Holme Grange, Wokingham.
Jacqui answers our 'Meet the team' questions.
Start by telling us a little bit about you?
I grew up in the North-East of England and if you listen carefully I still speak with a northern twang. I have worked in different workplaces, including in a bank, the British High Commission in South Africa, a visa agency, health and social care and the Alzheimers Society. After a break last year to be with my Westie puppy, Reggie, I saw this little job advertised at Sewisfaction and I have loved being in the shop ever since. Empty Nest caught up with me when my children moved out but I find it's not too bad now! Time for gardening, sewing and knitting plus part-time hours in the shop at Sewisfaction. Life is good.
What's your role at Sewisfaction?
I work in the shop at Sewisafction on Tuesday afternoons and Wednesday mornings. I hope I'm a friendly face for customers and students who are attending classes. I like to keep the shop looking tidy and dust-free (which is a constant battle with the fabric-cutting that goes on). I also process the online orders along with Sandra and Hayley. On a morning there is usually a class running and so I make sure there is tea and cake available for everyone. We are stock-taking at present and although it sounds boring, with the magnificent radio on and a cup of tea and a fabulous environment, I enjoy it.
Tell us a little bit about your top make of 2019?
Hmmm, my top make this year? Having only recently started sewing again, it would be my Stevie top by Tilly and the Buttons. I also made a Coco top for myself and some pyjama bottoms for my son. I  did the Introduction to Sewing Course this year as I was quite rusty. I love and use everything I made – the tote bag, the zip pouch, cushion…
What's next in your sewing queue?
Next in the sewing queue is actually a roman blind for my daughter, but for myself, I would like to have a go at making a pinafore. I get so excited when the new fabrics come into the shop which gives me wonderful ideas, but I don't get around to making anything. It will be my New Year's resolution to sew more.
You can see what Jacqui is up to over on her Instagram: @jacquisharod