What is Sewisfaction?
Sewisfaction is an independent fabric and sewing studio focused on bringing you beautiful dressmaking fabrics, inspiring sewing patterns and unique haberdashery products. We're also spreading the joy of sewing and crafting at our classes and workshops, which are for all ages and abilities.
Our shop is based at Holme Grange Craft Village in Wokingham, where we are alongside twenty other independent businesses, including handmade gifts, jewellery making, glass fusing, pottery painting, vintage furniture and hair and beauty salons. There is also a delicious cafe just downstairs!
We would love to see you at the shop, but if you aren't able to visit, we sell most of our fabrics and haberdashery online and ship worldwide.
Sheona's Story
My Nan was a professional seamstress and taught me to sew as a child. But it was only as an adult I realised the happiness a handmade wardrobe can bring.
No longer do I trek around the High Street, or have to moan that things don't fit me properly; now I have clothes made to my style, just the right size and from amazing fabrics that will last much longer. Add that to the massive sense of achievement from making something yourself and I want to share the feeling of Sewisfaction with as many people as possible!
Over the years sustainable fashion has also become more important to me. I am passionate about helping people learn how to sew and repair their own clothes and sourcing sustainable fabrics. I love that Sewisfaction is able to share that passion with children and adults across the world.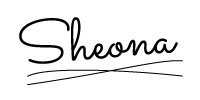 Meet the Team
Sheona
Owner and Founder
I firmly believe that sewing is a superpower. It can empower you, give you a huge sense of achievement and is brilliant for your well being. I am passionate about helping everyone unleash their superpower with fun, friendly class and beautiful fabrics!
Suzy
Class Coordinator
"Hi Everyone! I'm Suzy, Sheona's sister-in-law. As well as sewing I also enjoy crochet, cooking, reading, travelling, listening to podcasts and getting together with family and friends. Officially I work part-time as Class Coordinator, but generally I help out whenever Sheona needs an extra pair of hands, which could be packing orders or working in the shop."
Sandra
Customer Service
With a background in interiors, Sandra seems to have always been around fabric and more often than not, you'll hear her commenting on what a lovely cushion our new in fabric would make. "My main role in Sewisfaction is customer service, which covers a lot of the online orders preparation & posting as well as helping customers in the shop with their purchases and queries."
Alice
Customer Service
"My loves in life are make up, gin and any crime series on Netflix. My main role is dealing with the 'back office' – responding to customer queries and processing all the orders, updating stock levels and so on." Part two of the fabulous duo who man the shop and pack the orders, Alice also has a claim to fame in being the person who create the perfect swirl in all our fabric photos – and no, she won't be revealing her secret.
Nerrisa
Marketing Coordinator
"Howdy! I'm Nerrisa, and I'm a craft addict. I support on the Marketing over at Sewisfaction, which can mean helping Sheona with anything from the newsletters to blog content – I also get to manage the lovely blogger team too. No day at Sewisfaction is the same which is what I love about working with the team, from planning events to sewing up samples, there's always quite a bit of sewing based fun to be had!"
Eloise
Head of Web
"Hey, I'm Eloise, Sheona's sister. You may not see me in the shop very often but I work a great deal behind the scenes managing the website. I work very closely with Sheona to ensure the website is running smoothly, and we are always coming up with fresh ideas and ways to make the website easier and fun to use! I love using funky fabric to sew small makes like quirky bags and purses."